October 2021 Alumni Newsletter
Homecoming Service Event:
Terps Against Hunger
Sunday, Oct. 24 | 10:45 a.m.–2 p.m. EDT
Samuel Riggs IV Alumni Center
Join students, staff and the greater UMD community in the fight against hunger, and pack thousands of meals in a single day. The highly nutritious nonperishable meals will be distributed locally to children and families in need in the Washington, D.C. area.
Register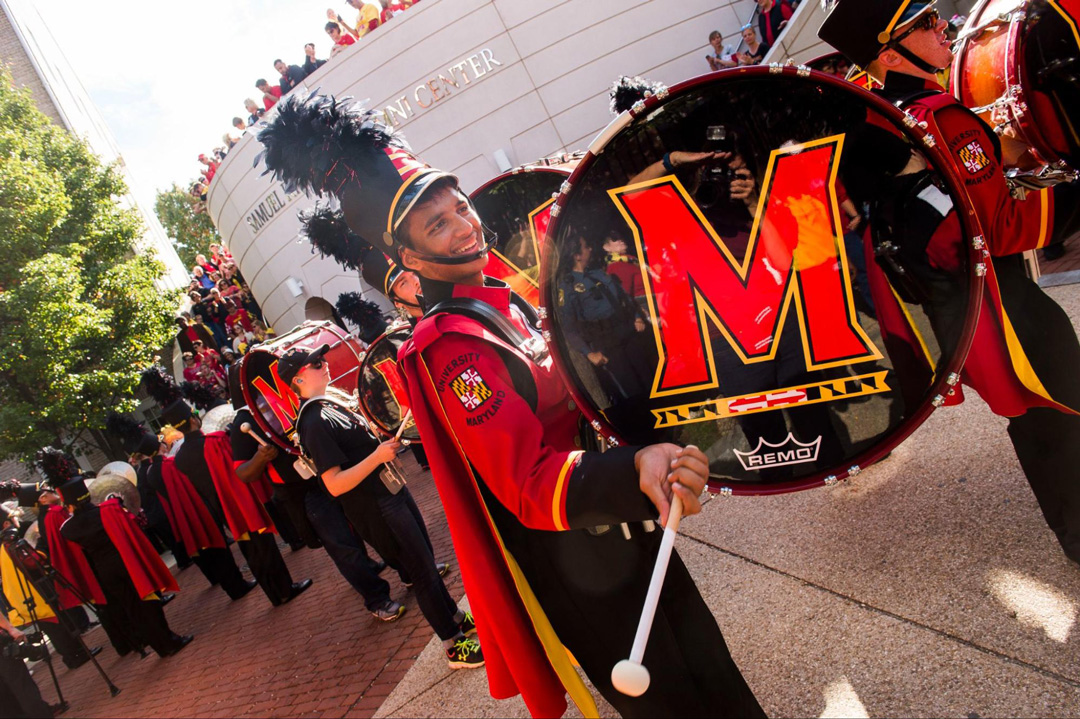 Alumni Homecoming Tailgate & Beer Garden
Saturday, Oct. 30 | 9:30 a.m.–noon EDT
Samuel Riggs IV Alumni Center
It's back! Enjoy food, music, games and explore Terp-owned breweries before heading into the stadium to watch Maryland Football take on the Indiana Hoosiers. Bringing your kids? Stop by our Testudo Tikes Zone in the Riggs Alumni Center. Members receive a free food and drink voucher.
Register
And that's not all! Several alumni networks and schools/colleges are hosting additional Homecoming events throughout the week. If you can't make it to campus for Homecoming, look out for a game watch hosted in your city.
Alumni Association tailgates are brought to you by GEICO and CrossCountry Mortgage.
Events
Quantum Investment Summit
Oct. 12–13
College Park, Md.
The Quantum Startup Foundry (QSF) at the University of Maryland brings together the physical and virtual resources needed to support entrepreneurs and startups in accelerating quantum technologies' time to market.
The Quantum Investment Summit will bring together top private investors, executives, thought leaders and experts from the most innovative corporations, startups, academic institutions and government entities with the goals of increasing access to these resources and building an ecosystem to support the advancement and commercialization of quantum technologies.
Learn More
State of the Association
Nearly 400,000 alumni worldwide. $66,000 awarded in student scholarships. Almost 20,000 members. More than 4,000 mentors and mentees. The past year has been full of accomplishments for the University of Maryland Alumni Association, as we settled comfortably into a virtual environment for practically all operations. We share the highlights in our 2021 State of the Association report, which also showcases many opportunities for you to connect and stay involved with the Terp community and campus.
Read the Report
We've Saved a Space for You
You have the chance to leave your permanent mark on campus with a personalized brick on the grounds of the Samuel Riggs IV Alumni Center. Located next door to Capital One Field at Maryland Stadium, all who walk there - thousands of students, alumni and Terp fans - will recognize your role in helping to build and sustain our Maryland legacy. Bricks are charitable contributions and are 100% tax-deductible.
Personalized Brick: $350
Alumni Association Member Price: $300
Buy Your Brick
100% tax-deductible donation. All bricks are installed annually in time for viewing at Homecoming. Purchase by June 30, 2022 to be installed by Homecoming 2022. Please note that during some events your personalized paver/brick may be temporarily covered.
Survey: University of Maryland Strategic Plan
Strategic planning at the University of Maryland presents an important moment in our history for us to examine our current state and build a blueprint for the future of the university.
Please share your thoughts on how we can make UMD a more respectful, inclusive and supportive place to live, work and learn by completing this five-question survey.
Complete The Survey
Membership
Your Alumni Association is truly yours: It's the one resource to connect you with fellow Terps, prepare you for new opportunities, and strengthen your legacy and alma mater.
Membership will help you connect with:
Terps in your industry to help you further your career with programs like Terrapins Connect and the Alumni Directory,
Those friends you miss from your college days through tailgates, virtual programming and networking events,
Current students—the future Terp workforce—through mentorship, and
The university through your free subscription to Terp magazine and Inside the Shell, your members-only newsletter, and much more.
Become a member by Dec. 31, 2021 to receive your gift. One gift per membership.
Travel
Passage through the Panama Canal and Costa Rica
Jan. 30–Feb. 7, 2022
Join this incomparable nine-day journey from the Costa Rican rainforest through the mighty locks of the Panama Canal. Cruise aboard the exclusively chartered, five-star Le Champlain to experience a daylight passage through the Panama Canal and call at remote island paradises. Explore Costa Rica's terrestrial wonders and tour Panama City.
Travel With Terps
We want to give a BIG thanks to YOU for supporting the University of Maryland during One BIG Week, the first-ever giving challenge across Big Ten institutions. Thanks to the support of donors like you, we received 235 gifts to the Campus Pantry and Student Crisis Fund. Together, we raised $37,268 for Maryland students.
You can continue to lend your support to these funds at giving.umd.edu.
Stay active. Stay informed. Stay Connected.
How do you stay fearless? Share your pictures with us on social media!
Pop Quiz
UMD's marching band, the Mighty Sound of Maryland, is a beloved fixture of every home football game. In what year was the band founded?
1875
1890
1908
1935
1950
Submit Your Answer
Three Terps who respond correctly will be randomly selected to win a pair of Testudo socks.
San Diego Terps Alumni Network via Instagram // @sandiegoterps
Thank you to everyone who came to our #CrabFeast in August! We had an incredible turnout and the crabs were delicious. Hope to see you at an upcoming event! #sandiegoterps
Annie and Roo via Instagram
@annieandroo
I may be a dog but I'm a Terp for life! Swipe to see the family legacy.
University of Maryland Alumni Association
Samuel Riggs IV Alumni Center / 7801 Alumni Drive / College Park, MD 20742-1521
301.405.4678 / 800.336.8627 / alumni.umd.edu