April 2021 Alumni Newsletter
Featured Event
Wellness Week
May 2–8
Craving some feel-good content? Stressed? Need to get back on track? Join the Alumni Association for a week of programming dedicated to health and wellness. Events include fitness classes, life coaching, nutrition tips and techniques to help lower stress–all hosted by Terp-owned businesses and alumni fitness professionals. Event registrants will also gain access to bonus wellness-related videos and downloads.
View Schedule
Events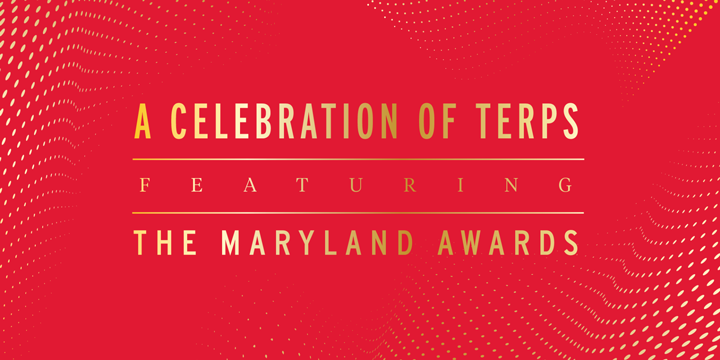 A Celebration of Terps: Featuring The Maryland Awards
Friday, April 23 | 7 p.m. EST
Virtual
The Alumni Association's marquee event returns with a virtual celebration. Join us as we honor the achievements of six outstanding Terps. Register for our livestreamed event, broadcasted live from the Samuel Riggs IV Alumni Center.
Learn More
Inauguration Week
Join us for a week of events celebrating the UMD community and the future we'll create together.
Innovate Maryland 2021
Wednesday, April 21 | 7 p.m. EST
A celebration of the university's innovators, entrepreneurs, inventors and creatives, this signature event recognizes the transformational impact made by our faculty, students and alumni, including awards for Invention and Startup of the Year.
Official Investiture Ceremony
Thursday, April 22 | 11 a.m. EST
Watch as President Darryll J. Pines is installed as president and shares his vision for the University of Maryland.
Moving Maryland Forward: A Celebration of Darryll J. Pines
Thursday, April 22 | 7 p.m. EST
Featuring a series of Grand Challenges lightning talks, performances and remarks from special guests, including President Pines.
Maryland Day
Saturday, April 24 | 10 a.m. EST
The UMD tradition closes out inauguration festivities. Enjoy a day of learning, fun and discovery online.
See All Events
Do Good Service Month
April 2021
Every April, alumni from California to Connecticut unite to Do Good in their communities, and you're invited to take part in the action. This year, we will unite to Do Good through a series of regional events and virtual programs.
Learn More
Read about Terp volunteer Ashley Henyan '02 Doing Good in the Alumni Blog.
NEW Terrapins Connect Job-Board
The Terrapins Connect alumni-only job board is a one-stop-shop for your career needs. Search for jobs posted by fellow Terps and/or share job openings at your company easily and effortlessly, all on our exclusive online-networking platform. Network with alumni at a particular organization, including connecting directly with the Terp referral or hiring manager. To get started, log in or create your Terrapins Connect profile and click "Opportunities" on the upper panel.
Search Jobs
Create the fulfilling career you deserve.
Join the UMD Alumni Career Design Fellowship, a flexible 30-day online program that will give you the clarity, plan and confidence you need to figure out exactly what comes next for your career. Hurry: registration closes Wednesday, April 7 at noon EST!
Learn More & Enroll
Join a Network Board
Network leaders help engage alumni and build Terp pride as ambassadors for the university and the Alumni Association. Work alongside generations of Maryland alumni and give back to your alma mater through this unique opportunity.
Regional Boards
Affinity Boards
Membership
Your Alumni Association is truly yours: It's the one resource that can connect you with fellow Terps, prepare you for new opportunities, and strengthen your legacy and alma mater.
Membership also allows you to pay it forward to the next generation of Terps through Alumni Association scholarships and student support. The Association awarded $60,000 in scholarships for the 2020-2021 academic year, made possible by membership dues.
Join Today
Join before June 30 to receive this beautiful McKeldin Mall watercolor print* FREE.
Lifetime memberships paid in full by April 30, 2021 will be engraved in the fall of 2021. Become a member by June 30, 2021 to receive your watercolor print. One gift per household.
*Frame and mat not included.
Travel
Terp Trips
Reinvigorate your senses right in your own backyard with Terp Trips: curated itineraries for on-your-own day trips to tour Baltimore, Washington, D.C. and Frederick (or your own neighborhood with the Staycation trip), all while supporting #TerpBusiness.
Learn More
Stay active. Stay informed. Stay Connected.
How do you stay fearless? Share your pictures with us on social media!
Pop Quiz
April is International Guitar Month. Which two guitarists/singers shared a lineup at a concert on UMD's campus on April 28, 1973?
Paul Simon and B.B. King
Carlos Santana and Bob Dylan
Chuck Berry and Bruce Springsteen
Joni Mitchell and Frank Zappa
Neil Young and George Harrison
Submit Your Answer
Three Terps who respond correctly will be randomly selected to win an Alumni Association pen set.
University of Maryland Alumni Association
Samuel Riggs IV Alumni Center / 7801 Alumni Drive / College Park, MD 20742-1521
301.405.4678 / 800.336.8627 / alumni.umd.edu