May 2020 Alumni Newsletter
Giving Tuesday Now
In just seven weeks, more than 1,400 students received emergency help from the University of Maryland Student Crisis Fund—thanks to the generosity of fellow Terps. Because of the COVID-19 pandemic, requests for support have skyrocketed. Will you step up to help our Terp community support our own?
Today, May 5, is Giving Tuesday Now—a global day of philanthropy when the world is coming together to support those most impacted by COVID-19. Make a gift today to the UMD Student Crisis Fund, and your generosity will be matched dollar-for-dollar up to $40,000, thanks to the generosity of Scott Plank '88 of Baltimore and Lawrence M. Macks of Chesapeake Realty Partners.
Alumni Blog
Get connected with your Alumni Association through the newly expanded Alumni Blog. You'll find articles that can help you advance your personal and professional goals, elevate your Maryland pride and celebrate Terp traditions. You might even find a new at-home workout routine, or a great recipe to try, all shared by and featuring fellow Terps!
Read Latest Posts
For more virtual resources please click here.
The Alumni Excellence Awards
The University of Maryland Alumni Association awards and recognizes alumni throughout the year for their fearless accomplishments.
Know an inspiring young alum who is making waves in their career? A Terp who is doing research that is changing the world? Perhaps a former classmate who has achieved above and beyond during their lifetime? Nominations for the Alumni Excellence Awards are being accepted from May 1 through July 15 in four categories: Rising Terp Award, Research Award, EnTERPreneur Award and the Legacy Award.
Nominate A Deserving Terp Today
Membership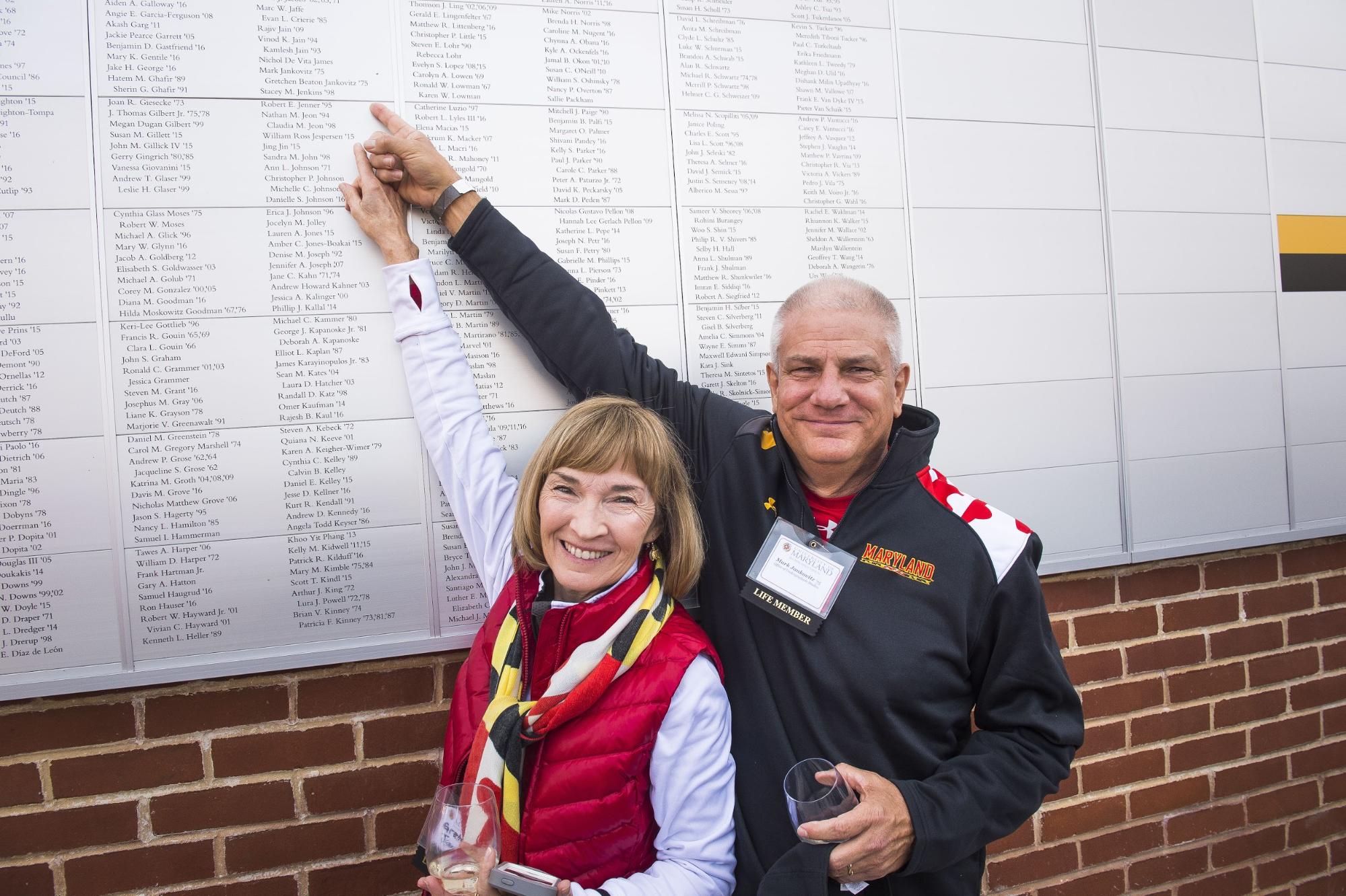 We value your legacy here at the University of Maryland. We know that your legacy is not only what you did during your time as a Terp, but what you leave behind.
When you become a lifetime member in the University of Maryland Alumni Association, you make your mark with something concrete: Your name will forever be engraved on the Frann G. and Eric S. Francis Lifetime Member Wall.
In an effort to make lifetime membership more accessible to all, we are offering a $200 discount off standard rates.
Become a lifetime member and get your name engraved on our wall—forever.
Join Today
Sponsors
It's Never Too Late to Get Your Class Ring
Show off your school pride with your class ring! Balfour is offering 25% off class jewelry and a free Kendra Scott necklace with any class jewelry purchase. Celebrate your achievement with an official class ring featuring any year back to 1950. Explore all ring styles here.
Stay active. Stay informed. Stay Connected.
How do you stay fearless? Share your pictures with us on social media!
Pop Quiz
McKeldin Library was dedicated on May 3, 1958. Who was the president of the University of Maryland then?
Thomas B. Symons
Wilson Homer Elkins
Raymond A. Pearson
Albert F. Woods
Charles E. Bishop
Submit Your Answer
Three Terps who respond correctly will be randomly selected to win an Alumni Association travel bag.
Boston Terps Alumni via Instagram
@boston_terps
Although we can't gather in person, we are excited to welcome the Class of 2020 into the alumni community and celebrate all of our amazing #bostonterps. Here are a few of us at our 2019 volunteer event at the Greater Boston Food Bank. Tag your favorite Terps pride photo using #ShellsUnited
University of Maryland Alumni Association
Samuel Riggs IV Alumni Center / 7801 Alumni Drive / College Park, MD 20742-1521
301.405.4678 / 800.336.8627 / alumni.umd.edu