March 2020 Alumni Newsletter
Black Alumni Weekend
Save the Date: May 1–3
College Park
Come home to College Park for this inaugural weekend, which will include signature events like the Gift of Giving gala, alumni barbecue and inspiration brunch.
Registration coming soon!
Alumni Takeover: UMD vs. UVA Men's Lacrosse
March 14
College Park
Join us as UMD men's lacrosse takes on UVA on March 14 at 1:00 p.m. at Maryland Stadium. Discounted tickets are available to all alumni for $10.
Alumni Association members: The first 100 members to sign up receive a free ticket to the game. Complete this form to enter. You will receive an email confirmation if you are a winner.
All Alumni Association members and Terrapin Club members: Visit our Alumni table at the stadium and show your membership card to receive your FREE Terps swag.
Buy Your Tickets Now
Pictured from left to right: Brian Meenaghan '05, Stacey Lacer '06, Jim Spencer '90, Amy Eichhorst, Dan Rochkind '98, Matthew Jones '15
Terp Advocacy
The Alumni Association's Board of Governors met with elected officials at the Maryland State House in Annapolis on Feb. 28, prior to its spring board meeting. On behalf of the university's 377,000 alumni, board members conveyed the importance of operating and capital funding for UMD, as well as support for legislation that matches private funding with state funds for certain endowed faculty chairs.
Click here to learn how you can take part in legislative advocacy through the Terp Advocacy Network.
Membership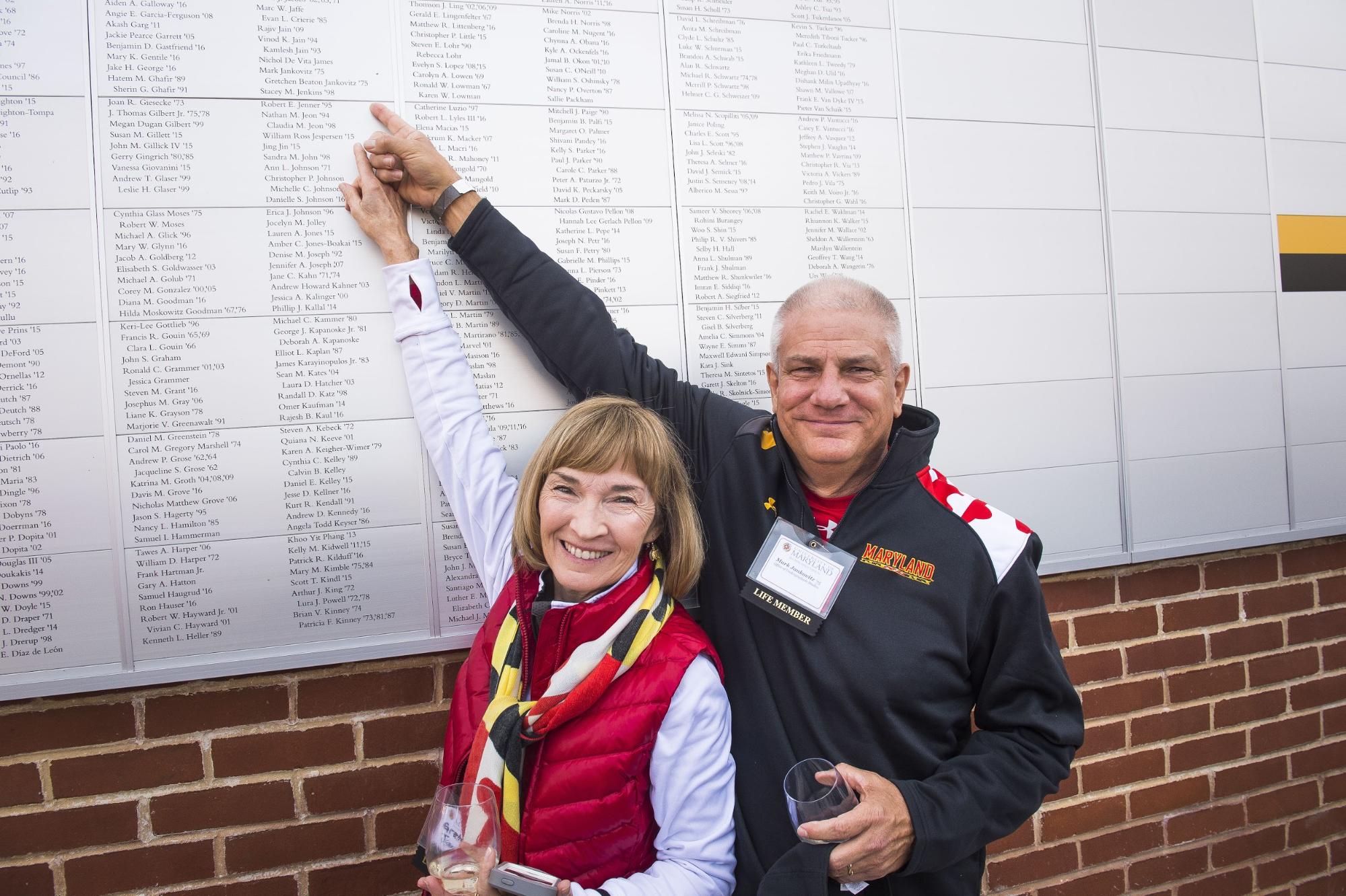 We value your legacy here at the University of Maryland. We know that your legacy is not only what you did during your time as Terp, but what you leave behind.
When you become a lifetime member in the University of Maryland Alumni Association, you make your mark with something concrete: Your name will forever be engraved on the Frann G. and Eric S. Francis Lifetime Member Wall, signifying your commitment to our alma mater.
Become a lifetime membership by April 30, 2020 and get your name engraved on our wall—forever.
Join Today
Maryland Today, Every Day!
Stay plugged into the Maryland experience with a free subscription to Maryland Today, the university's daily e-digest of stories, announcements and other information about student life, the latest research and events that everyone's talking about.
Subscribe Now
Stay active. Stay informed. Stay Connected.
How do you stay fearless? Share your pictures with us on social media!
Pop Quiz
March means basketball season. Who is the only UMD basketball player who's been inducted into the National Collegiate Basketball Hall of Fame?
Tom McMillen
Juan Dixon
Len Elmore
Kristi Toliver
Lonny Baxter
Submit Your Answer
Three Terps who respond correctly will be randomly selected to win a Stay Fearless pin set!
Seattle Terp Alumni Network
via Instagram
@seattle.terps
Thank you to all of the incredible Seattle Terps who came out in full force for our "Terps Take the Slopes" event tonight!
University of Maryland Alumni Association
Samuel Riggs IV Alumni Center / 7801 Alumni Drive / College Park, MD 20742-1521
301.405.4678 / 800.336.8627 / alumni.umd.edu