September 2018 Alumni Newsletter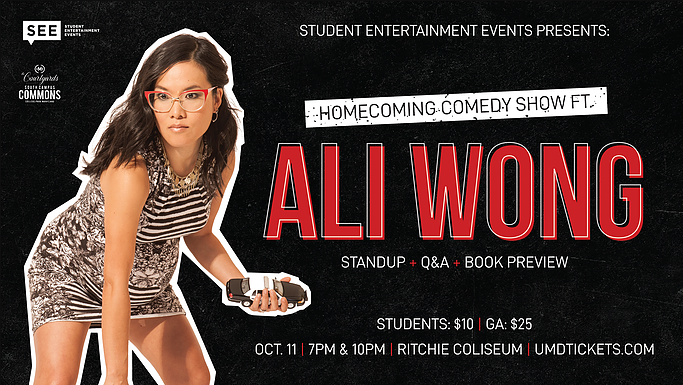 Homecoming Comedy Show ft. Ali Wong
Thursday, Oct. 11
7 & 10 p.m. | Ritchie Coliseum
Student Entertainment Events presents Ali Wong for an evening of standup comedy, a book reading and Q&A. Wong has two standup specials, "Baby Cobra" and "Hard Knock Wife," streaming on Netflix.
Learn More
Membership
Coming Soon - The new and improved TERP DEALS member benefits program will relaunch in September. Don't make it back to campus often? No worries! Alumni Association members will now have access to thousands of discounts and perks nationwide on a mobile app.

Want to save on travel? The new TERP DEALS program will provide a travel booking site as well. Stay tuned for more details and check out all of your member benefits here.
Events
University of Maryland Night at Oriole Park
Sept. 19, 2018
Join fellow Maryland students and alumni for University Night at Oriole Park at Camden Yards on Sept. 19 at 7:05 p.m., when the Baltimore Orioles take on the Toronto Blue Jays. For a limited time, fans purchasing this special ticket package will receive a unique Orioles hat in Maryland colors.
More Details
Galápagos
Feb. 11–19, 2019
This incredible nine-day journey features the Galápagos Islands, where the unique wildlife accepts up-close human interaction like nowhere else on Earth. Accompanied by certified naturalists, cruise for four nights and enjoy three nights on mainland Ecuador. Add on a pre-tour Andes and colonial Cueca option, or a six-night Machu Picchu and Sacred Valley post-tour option.

Reserve by Sept. 7 and save $2,000 per couple!
Travel with Terps
At the opening game of the football season, Maryland players honored Jordan McNair by lining up with only 10 players on their first offensive play. They also wore stickers with his number, 79, on their helmets, and observed a moment of silence.
Stay active. Stay informed. Stay Connected.
How do you stay fearless? Share your pictures with us on social media!
Pop Quiz
"The Refugees," by Viet Thanh Nguyen, is this year's University of Maryland First Year Book. What is the name of the novel for which Nguyen won the 2016 Pulitzer Prize?
"The Orphan Master's Son"
"The Sympathizer"
"The Surrendered"
"The Privileges"
"The Woman Who Lost Her Soul"
Three Terps who guess correctly will win a copy of "The Refugees."
Submit Your Answer
Each year, the university selects one book for all first-year students, providing an opportunity for the university community to look at a topic, issue or experience from a range of different perspectives. This year's book selection is part of the Year of Immigration, a university initiative to increase awareness about immigration, global migration and refugees, and to foster a more diverse and inclusive community.
University of Maryland Alumni Association
Samuel Riggs IV Alumni Center / 7801 Alumni Drive / College Park, MD 20742-1521
301.405.4678 / 800.336.8627 / alumni.umd.edu