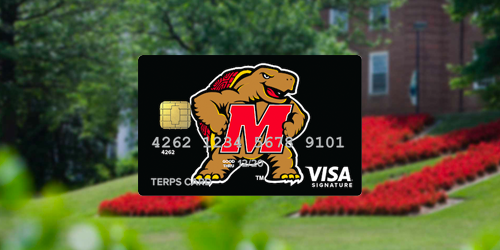 What's better than earning rewards when you show your Terp pride?

With Terps Card, earn one point for every $1 you spend, and watch the points add up—plus get 10 times the points for all University of Maryland purchases!

With hundreds of rewards to choose from, redeem your points for the rewards you want. Stay Fearless and apply today!

Membership
Join or upgrade to a three-year or lifetime* Alumni Association membership by July 31 and get a waterproof bag or beach mat with inflatable pillow. Join now and show off your Terp pride this summer!
*Includes new lifetime membership installment plans.

Join Now
Italy's Magnificent Lake District
Sept. 3–11, 2019

Discover northern Italy's lake district, where sparkling glacial lakes mirror lush, green hills and craggy Alpine foothills. Book now and save $250!

Learn More or call today to secure your room: 301.405.7938.
You're Invited: University of Maryland Alumni Virtual Book Club
Brought to you by PBC Guru

The UMD Alumni Virtual Book Club connects fellow Terps and encourages continued learning. Enjoy novels and books on business, communications, leadership, productivity and more.

Join Today
Stay active. Stay informed. Stay Connected.
How do you stay fearless? Share your pictures with us on social media!
Today's UMD students can cool off on a hot summer day at the Eppley Recreation Center's outdoor pool, but which two buildings on campus are built over old swimming pools?
A.) Preinkert Field House and Cole Field House
B.) McKeldin Library and Parren J. Mitchell Art-Sociology Building
C.) Stamp Student Union and Architecture Building
D.) Shoemaker Building and Washington Hall
E.) South Campus Dining Hall and Tawes Hall
Three Terps who guess correctly will win University of Maryland Alumni Association sunglasses.
Samuel Riggs IV Alumni Center / 7801 Alumni Drive College Park, MD 20742-1521 / 301.405.4678 / 800.336.8627